Part Two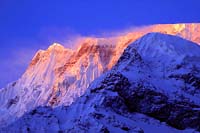 Here in Manang, we prepare for our climb over the Thorung La Pass. This trek is timed so that in almost any given year the conditions will be good - the pass crossable. There is however, always a slight chance the weather has turned bad. At that point we gauge our time and our acclimatization with the conditions and if we can move forward we will. It is two days walk up to Phedi, the "foot" of the pass. Not long days, but a gain of five hundred meters a day. It is important that we all be very clear and open about how our bodies are responding to the thinning atmosphere. I am very familiar with the symptoms of altitude sickness. There is a big space between discomfort and sickness. No one is going anywhere who isn't ready and fit to go. Neither age nor medium fitness levels are a detriment to acclimatization. It is a matter of pacing.
The crossing of the pass at 5416 meters, is a most exciting day! To be up there amongst the highest mountains on earth, to watch the world emerge from starlight into azure, aquamarine and vermilion, then tangerine, then dawn and down! Head spinning and breathtaking - literally! For many people crossing the pass is an extremely emotional experience. Coming down is a little like being born into a new life. Ours begins at Muktinath with its enshrined natural gas flames; one in the rock, one in the water. Pilgrims come from all over Nepal and India to this holy spot. We continue down into the land of Mustang, dry hills and villages like fortresses of crumbling mud. Kagbeni is as close to being in Tibet as you'll ever get without a Chinese visa. and then south on the banks of the Kali Ghandaki river, for centuries one of Asia's great caravan routes. The trade continues, laden on teams of horses, mules, ponies and burros.
Jingling bells, the dry wind, and the shouts and whistles of the drivers are the sounds of the upper Kali Ghandaki. the lead animals with their lofty red head-dresses are a frequent sight as we walk through fruit orchards, surrounding the dry Tibetan style villages. In three days we drop from 2800m at Kagbeni to 1200m at Tatopani. From high and dry to subtropical, from spartan, to as close to a resort as you'll find in the hills of Nepal. "Tato-pani" means hot water, and this town is the most popular hot springs on the trek. It is so good to soak! I don't mind sharing it with many. We're all here for the same good reasons.
Revived, we climb back up to Ghorepani at 2800m on the shoulders of Annapurna South, and into the giant rhododendrons. The great snow peaks are above, monkeys swing in the trees, and blossoms are everywhere. Too beautiful to be true.
And then we descend from forest to jungle to terraced hills down into the sub-tropics again. At Birethani; we emerge at a ROAD!, with VEHICLES! and our walking is over. A short bus trip to Pokhara and then the next day an eight hour bus trip to Kathmandu and our circle is complete.
We will probably begin our trek two and a half days after arrival in Kathmandu and should be back with two days before departure. So there should be ample time to shop and eat, to wander and share good-bye parties before our return to the west. It will seem like you have been gone for months.
Back to Annapurna Circuit from Gorkha -- Part One
---